Staying at a hostel isn't always what you think. When I travel, I always run into a few people who scoff at the fact that I stay at hostels. It seems some people assume they're run down, dirty and dangerous. While that may be true for some, I'm here to tell you there are some ridiculously friendly hostels out there. 
Honestly, some of the best experiences I've had abroad have been the direct result of staying at a hostel. There have been staff members who made me cry when it was time to leave because of how sweet they were. A hostel can truly feel like a home if you find the right one. 
If you haven't experienced hostel life, please give it a chance! It's a small price to pay for unforgettable memories. First, before you get too excited, let's go over the ins and outs of hostel life and what you can expect.
Before you start kicking yourself, no this isn't a stupid question. There's a lot that goes into what makes a hostel. 
A hostel is an accommodation service that offers luxury vibes at budget prices. Generally speaking, most hostels share a similar layout. You will almost always find a common area or lobby on the bottom floor where you can check in, ask the staff about local tours, and mingle with other guests.
Hostels also commonly have shared rooms, basic kitchen facilities, scooter/moped rental, laundry service, and other travel amenities such as group tours and free breakfast. At the larger hostels, you can expect to find a restaurant and bar on-site, and in my experience, the food is decent, and the drinks are delicious. 
Aside from the logistics, a hostel has so much to offer you in terms of experience and friendship. When I was in Bali, I made a group of friends on my first day through a free tour the hostel offered. Within a few hours, we were a family and spent the next week together exploring Uluwatu. The experience turned tear-jerking laughs into lifelong friendships.
What Is It Like Sleeping at Hostels?
Staying at hostels is always unpredictable, and I mean that in the best way possible. Let's be honest, it's all about the experience, and that experience is largely what you make of it. 
Before I get into what it's been like staying at hostels for myself, I want to point out that who happens to be staying at your hostel will impact the way you experience it. I've stayed at places and had an okay time but then heard from others down the line that their experience at the same place was horrible or the ultimate best time of their life. My point is the people are what make it. 
I have made life-long friends at hostels throughout my life. There's something magical about a building full of like-minded people on the adventure of a lifetime. It doesn't matter where you're from, your interests, or whether you speak the same language – you will end up surrounded by new friendships. 
Multiple times, my entire trip plans changed because of the people I met while staying at hostels. You gain epic insight and travel tips from fellow guests. Some of the best things I've learned haven't been from blogs but from people at my hostel. It's also great when you find people going in the same direction and decide to travel together! 
On the other hand, I've also had some not-so-great hostel experiences. To be fair, they could have been totally avoided. If it's a party hostel, be prepared to have people coming in and out of the room at odd hours of the night. It's not uncommon for an entire room of people to go out together and come stumbling in at 3 am. 
This is totally great if you're one of the people coming back late. It's not so great if you happen to be sick or have to get up at 5 am to catch a bus, and now you're wide awake and irritated (speaking from experience). Or if you're trying to sleep and the people in the bunk under you are having sex (also speaking from experience). Honestly, if you're not a party person or know you'll have to get up early, just do yourself a favor and invest in a quiet room or stay somewhere more mellow!
What Type of Rooms Do Hostels Offer?
Hostels offer different types of rooms. For the most part, rooms in a hostel will be shared, but there are a few exceptions. Let's go over the different types of rooms you might find at a hostel: 
Dorm Rooms
Hostels mainly function on a dorm-room system with the occasional private room. You will see options for different-sized dorms, such as 4-person mixed dorms, 8-person mixed dorms, 10-person mixed dorms, 4-person female dorms, etc. The dorms usually have bunk beds, but I have seen individual beds in the smaller 4-person rooms. 
Mixed Dorm Rooms
A mixed dorm means both men and women are in the same room. In my experience, I've found many hostels tend to group guests by gender, so even in a "mixed room," I had all female roommates, though that's not always the case. I've also been the only female in a dorm with 5 other guys. 
Whenever I tell people I stay in mixed dorms, people tend to freak out that I would feel safe sleeping around random dudes. Honestly, I understand why the thought might freak people out, but I've never had any problems. In my experience, regardless of which gender you're around, you should always keep your guard up and take necessary safety precautions like locking your things up and notifying staff if you feel unsafe. 
Female Dorm Rooms
Female Dorms mean only female guests will be allowed in the room. As a solo female traveler, I shoot for all-female dorms whenever possible. It's not because I feel unsafe in mixed dorms, but because I find female dorms smell better, and I don't have to hide to change my clothes or feel awkward about sharing the bathroom. 
Also, if it's a big party hostel, I avoid mixed dorms because I've found some guys like to bring girls home to their dorm after a night out (something I'll never understand). 
Despite the female room popularity, I've found some of the more popular hostels to only offer mixed dorms, I'm assuming because they can fill more people. Just another reason why choosing the occasional female dorm can be a breath of fresh air.
Sleeping Pods / Capsules
Sleeping Pods are definitely not standard in all areas of the world. I would say these are more often found in Asia. These rooms offer more privacy in a shared space. A room will have multiple pods inside that are enclosed by a thick curtain or wall. I like to think of them as shelves for humans. I stayed at a lot of capsule hostels when I was in Southeast Asia, and I loved them. When I was in my pod with headphones, it felt like my own private room! 
Private Rooms
Most hostels don't offer private rooms. If they do, they are usually super limited — so book these in advance. Depending on the hostel, the rooms may have a private bathroom or utilize shared facilities. I've stayed in both and don't really have a preference. In my experience, the shared bathrooms for private rooms are close by and well-kept. 
Family Rooms
The family room falls under the private room category. Usually, these rooms will have multiple beds or bunk beds that you can rent out. Family rooms are great for small groups traveling together who want to be in the same room. You can book these rooms for one person, but you will be asked to pay for each bed. So, a private 4-person family room listed at $12 means each person needs to pay $12, or one person needs to pay $48. If this is the case, it'll be listed on the HostelWorld booking listing.
Alternative Rooms
Some hostels offer rather unique sleeping accommodations like hammocks or tents. Don't worry, they will make it very clear that's what you're signing up for. If you're ever unsure, it's best to reach out to the hostel staff before booking.
 In Phuket, Thailand, there is a hostel known as Roost Glamping, which offers adorable private and dorm room tents like the one imaged above. 
What Are the Basic Room Amenities at Hostels?
No matter what room style your hostel has, the list of amenities is pretty constant. The rooms almost always come with lockers. Sometimes they have automatic lockers and key cards that are assigned upon arrival; other times, you will need to have your own lock. If you're looking for travel locks, click here. 
The beds come with one blanket (or sheet) and one pillow. This might vary depending on the hostel but i've always been given a pillow and blanket. Most beds also have a curtain for privacy, a small shelf, personal light above your bed, and plugs for your items. These are all things I'd check for in the photos when choosing a hostel. 
When it comes to bathrooms, you will either have an ensuite dorm or a shared bathroom. I've found this varies largely depending on which country I'm in. For example, most of my Bali hostel stays had shared bathrooms, whereas most of my Vietnam hostels had an ensuite. 
Honestly, I prefer shared bathrooms because you are given multiple bathroom stalls and showers. When it's an ensuite, you have to share that one bathroom with everyone in your room. So, if you wake up and have to us the toilet but someone is showering, you're stuck waiting it out. I also prefer not to handle my bathroom business with four strangers sleeping in the direct vicinity. Regardless, you get used to it. 
Where Can I Find the Best Hostels?
The best place to browse for and book hostels is undoubtedly HostelWorld. You can download the app on your phone for convenience and set the filters to find the perfect place that fits all your needs.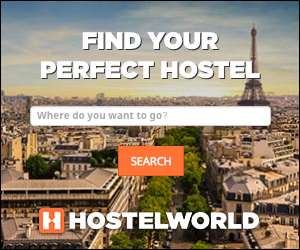 Finding the perfect hostel is essential for having a good time on your trip. Where you decide to stay will largely influence the people you interact with and the activities you endure. Various factors go into what makes a hostel great. As a general rule of thumb, I always look at the location, previous ratings, property amenities, privacy, and the social aspect.
To book a hostel, you will first need to create an account with HostelWorld. Once you create an account, it's time to start browsing! Just type in your destination in the search bar and choose the dates you want to stay. 
Next, select how many guests you are booking for. The site will display all available hostels in the area for the selected dates. You can now use the provided filters to sort through your options. 
When you find a hostel you like, select the option and view the property's details. Most listings will show reviews, amenities, any rules, the location and arrival/departure details. Once you review the information, hit the select room button and choose from the available options. 
Enter your personal details, pay a small $1-$2 deposit fee and receive your booking confirmation in your email. Don't worry about paying the total price, you can pay upon arrival!

How Much Do Hostels Cost?
The cost to stay at a hostel will vary depending on various factors, with the location being the most prominent. Obviously, if you go to Thailand, you'll be able to find a hostel for much cheaper than in Paris. Keep this in mind when you're budgeting for your next trip. 
The location within the country you're in will also play a part. For example, in Bali, I stayed at a mixed dorm hostel in Ubud for $9 per night, but I paid $18 per night for a mixed dorm a few hours away in Uluwatu. 
You will also want to consider the season you're traveling in. You will be asked to pay more if you're in peak season when hostels are generally busy. When I was in Thailand, I went to Koh Phangan for the infamous full-moon party. Dorm rooms for that weekend were going for $15+ per night and dropped down to $6 two nights after.
What Happens If I Need to Cancel My Booking?
If you need to cancel your booking, it's generally not an issue. Most hostels will ask for a few days' notice, which you should respect if you can, but sometimes life happens, and that's okay.  
When you book with HostelWorld, you can access a phone number and/or e-mail for the hostel staff. Sending a message to them will be greatly appreciated so that they can rent the bed to someone else.
Reimbursement will depend on the site you booked with and the hostel's individual policies. Generally, if you paid in full and cancel last minute, you're probably not getting your money back. 
So far, the most i've lost from a HostelWorld cancelation is a small deposit of $1-$2. Though that's not it will always be that way! It's best to be safe and just talk with the hostel about canceling rather than ghost them. 
If you end up losing your money don't get mad. Instead, take it as a learning experience and don't make the same mistake. 
Are There Rules at Hostels?
Generally speaking, yes, there are rules at Hostels. Whether they're enforced is an entirely different question. Here are some of the standard rules I've seen at hostels:
Quiet Hours
This is standard at most hostels and usually will be upheld by staff. Even when it's not explicitly stated, most guests follow the unspoken rule of quiet time. The outdoor common areas are usually quiet by 11 pm or so. Still, that doesn't mean you won't have someone storming into your room wasted at 3 am. 
No Outdoor Guests
Again, this is standard for hostels. Unfortunately, it's super hard to keep track of unless they have night-shift security. Although I've had primarily great luck, there have been a few times when guys have brought girls back to the dorm room at night, which, let's face it, is pretty awkward for everyone else. 
No Outside Food or Drinks
This seems to be a given for all hostels and hotels alike. They want you to buy food and drinks there, not from other people. Still, I almost always see people drinking in their rooms or bringing home street food to save a buck. 
You Are Liable for Lost Items
Like most public places, you're responsible for your own stuff. Don't be over-trusting; lock up your items before you leave the room and double-check everything before checking out! 
Pro Tips for Staying at Hostels
Part of getting good at hostel life is learning from your mistakes. Lucky for you, i've made plenty of them. Here are the most important tips for booking hostels based on my experience. 
Read Reviews
Always make it a point to read reviews for where you plan on staying. A handful of times, the pictures looked great, but the reviews were trash.
Be a Good Roommate
It's not hard to be nice. Treat your roommates with respect, try to be quiet in the mornings and late at night, keep your things organized, and don't bring strangers into a room full of people's valuables. Basically, treat people how you want to be treated. 
Don't Book Excursions on Site
This isn't always true, but it can often benefit you to walk around the town and book excursions through companies directly. The hostel will always take a commission for booking, so keep this in mind if you're on a budget. 
Know Your Arrival Time
If you're going to arrive at a hostel at 4 am and your check-in time is at 3 pm, that's something to take note of. You can usually crash in the lobby but if you want to get right into your room, book the night before. 
Communicate With Hostel Staff
If you're arriving early or late, send a message to let someone know and verify someone will be on-site to check you in.
Stuff to Bring
Hostels don't always have towels so be sure to bring one with you! I prefer to carry a microfiber towel when I travel. You can read more about my essential travel items here! 
Thank you for reading! If you have any questions, drop them in the comments. I'm happy to answer directly or in the form of a blog post! Don't forget to subscribe below for exclusive updates!